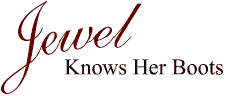 Billy Martin's western store in New York City was the site of a televised "Shopping Spree" last week organized by VH-1 for Jewel Kilcher (aka "Jewel"), one of America's top singing artists. Jewel's country roots made her feel right at home at the upscale western apparel and boot store. Born in Payson, Utah, she and her family moved to Alaska where she grew up on an 800 acre farm.

"Jewel is the genuine article, through and through",
said Doug Newton, ceo of Billy Martin's
"And she knows more about western fashion, cowboy boots and style than most people I've met in the western industry in 20 years! This gem of a person knows her boots, and her roots" Newton said.

Her TV appearance -- aired on VH-1 last week -- was spent with the entertainer selecting a favorite pair of red cowboy boots, and just the right belt and buckle to go with her blue jeans. Then she gave a candid interview to VH-1 about her life and career.

Newton said "Everyone in the store was captivated by her honesty and charm."

Jewel has said she is worried about being put on a pedestal. "People look at me in magazines or on stage and feel like I'm a phenomenon, as if what I have accomplished is beyond their ability. I tell them to knock it off. If you respect what I've done, then do something yourself."


02/02



Visit Jewel at her Official Website:
www.jeweljk.com